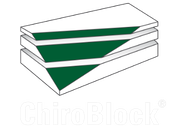 Chemical Custom Synthesis & Contract Research

we synthesise your molecules - learn more


Welcome to ChiroBlock's MoleculeFactory
Chemical custom synthesis of commercially not available, complex and novel molecules
ChiroBlock's "MoleculeFactory" is your solution provider for complex and challenging custom synthesis projects of novel or commercially not available research reagents, reference standards, impurities or the first samples of functional compounds for your product development.
Depending on your needs, our custom synthesis service provides everything from route scouting service for entirely new molecules via first batches of the substance to the validated scalable synthesis protocols. ChiroBlock taps the latest developments in chemical synthesis in a completely unbiased, but clearly determined way.
Whether you are striving towards new APIs, new OLEDs, new food additives, better catalysts, highly potential fungicides, cosmetic ingredients, sweeteners or dyes: new, custom tailored molecules are required, bearing the desired properties.
While our customers are experts in predicting, measuring and improving these molecule properties, ChiroBlock is the expert in actually synthesizing them. The actual making of first samples of such new research reagents is only a tiny step in product development – however, a very important one. If it is neglected, the properties of many promising structures can not be tested or – even worse – wrong answers will be obtained.
To grant the very first delivery of new molecules, innovative approaches are required. This is less the question of inventing a new technology but much more an issue of combining and adapting existing approaches in an optimal way and within a predictable time frame.
Being experts for research and development on chemical synthesis we fill the gap within your value creating chain between the basic research at universities or research institutes and the multi-tonnes manufacturing of your compounds.
ChiroBlock has been developing proprietary internal processes of finding and combining such suitable synthesis technologies meeting the customer's demand since its foundation in 1999. Only these proprietary processes – implemented in ChiroBlock's so called "Synthesis R&D Platform" – allow us to operate successfully.
ChiroBlock's profitability – without any complementary manufacturing or trading business – is the best proof of this statement. The balanced and skilled management of risks, quality, knowledge and projects together with our passionate chemists (mainly PhDs) and state-of-the-art equipment are the keys to our success.
With our 100% focus on chemical synthesis service we create sustainable solutions for customers from various industries, with respect to their different demands. Due to these advantages of specialisation, we are able to offer even high risk synthesis projects at a fixed price. With our "Fee for Service" contract option customers only pay, if we do deliver the requested compound. In contrast to other contract models – offered by most suppliers – no additional costs are incurred if chemical problems arise during the synthesis. This gives our customers a much higher predictability of risks and costs.
What if the synthesised molecule turns out to be THAT hit in your development? What if larger quantities are needed? Can ChiroBlock offer the custom synthesis of larger amounts?
From first time synthesis to regular production – we accompany our customers during the crucial product development stage for a successful future product launch. Please check out our complementing chemical synthesis services.
ChiroBlock is not just looking for new products to keep our manufacturing facilities busy. We see our strength primarily in the research and development of new chemical synthesis to novel compounds. But for customers seeking the opportunity to also source these compounds on a regular basis, we wanted to add this service to our profile. We regard our other services as a consequent extension of our MoleculeFactory business branch.
At ChiroBlock you find the advantages of both worlds: The creativity and innovation of passionate chemistry researchers and the thorough understanding for economic, regulatory and environmental issues. Leave your synthesis tasks to ChiroBlock. We are synthetic chemists with heart and soul and are looking forward to your challenging chemical synthesis projects.
Examples for chemical custom synthesis projects