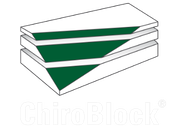 Technologies for Synthesis, Purification & Analytics

technologies available in our synthesis lab


Synthetic chemistry techniques at ChiroBlock
synthesis technologies for customized organic chemistry
Technological diversity combined with passion for organic synthesis build the fundaments of our success. In contrast to many other companies, we do not have a technological focus or bias, which allows the posed problem to be solved in various ways.
Naturally, a commissioned company will always prefer an approach which uses it's own special technology – irrespective of whether this is the best and most efficient one. In contrast, ChiroBlock is able to develop and assess a multitude of possible solutions, requiring different techniques – unprejudiced, always choosing the one best suiting our customer's requirements.
Synthesis Technologies
We are equipped and experienced to perform all standard transformations up to the kilo scale, with our 60-L Büchi multi-purpose unit even allowing organometallic reactions at temperatures as low as –90 °C.
The recent years have witnessed a dramatic evolution of flow chemistry, which, when applied the right way, often provides major advantages over traditional batch synthesis. For example, efficient heat transfer, fast reagent mixing, and short residence times allow one to address reaction coordinates not accessible in batch mode.
Additionally, reactive intermediates can be captured and unusual conditions can be applied. Not least, hazardous reactions become safer, since there is always only a small amount of reagents present in the micro reactor. All these advantages make flow chemistry a very desirable technology, especially for process chemists, and ChiroBlock has therefore invested in an in-house MRT system. Our preparative micro reactors allow a three step setup with flow rates of up to 50 mL/min and pressures of up to 15 bar.
When it comes to chirality, green chemistry, or process development, bio-catalysis is a potent option. At ChiroBlock, standard enzymatic reactions are performed in-house, under pH-stat conditions if required. Moreover, we have the knowledge and partners to incorporate even special enzymatic steps into the reaction sequence.
Ozone is one of the smartest reagents available to the organic chemist, showing high selectivity in attacking double bonds, tolerating nearly all functional groups, and producing alcohols, aldehydes, or acids, depending on the reaction conditions.
Our preparative ozone generator can be used to transform substrates on up to a 100-g scale. Beside the classical ways, we also have more advanced methods of activating the reaction medium, namely microwave irradiation, high-power sonication, and high performance UV radiation.
Purification Technologies
It goes without saying that every sensible chemist prefers to purify compounds using the classical methods of recrystallization and distillation. However, purification of crude reaction mixtures can be troublesome, requiring the use of chromatography as a main option.
To apply this technology most efficiently, we are equipped with automated chromatography systems. Standard flash chromatography can be run not only on Silica, Alox, and RP, but also on special modified phases, IEX and SEC. Apart from that, we perform preparative medium-pressure chromatography at pressures of up to 50 bar and flow rates of up to 250 mL/min.
For large-scale R&D projects, it is often required to purify kg quantities by chromatography. To address this challenge, we use a larger system with columns of up to 20 cm in diameter and flow rates of up to 1000 mL/min.
Analytical Technologies
State-of-the-art analytical technologies used in process control and final QC mainly include in-house methods like NMR (500 MHz), GC-MS, and LC-MS. Special techniques are also available via our partners, e.g., the full set of process relevant parameters (DCS, water content, LOD inorganic impurities, etc.).
Our chiral HPLC system offers automated method development for cost-efficient analysis of enantiomeric purity. For characterization of polymers, an in-house size exclusion chromatography (SEC) system is available.
overview on technologies for synthesis projects

–90°C on 60-L scale
Flow Chemistry
Enzymatic Transformations
Ozonization
Microwave Chemistry
Automated Preparative MPLC
Large-scale Chromatography
SEC for Polymer Characterization