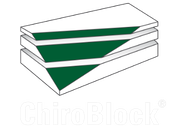 your partner for chemical synthesis outsourcing

learn more about ChiroBlock & chemoutsourcing


ChiroBlock - About us
Outsourcing chemical synthesis to ChiroBlock
As one of the most experienced outsourcing partners for chemical synthesis in Europe, we provide custom-tailored solutions for clients seeking chemical contract research in the fields of organic synthesis and customised synthesis services.
"Converting Ideas into Molecules" describes exactly what our chemistry experts do every day, helping ChiroBlock to define and develop the efficiency, flexibility, know-how, and problem-solving competency standards in this market.
Whether a molecule needs to be synthesized for the first time for lead testing, a new synthesis approach is required (e.g., to avoid critical reactions with unwanted byproducts), or an important building block needs to be synthesised under strict quality management control – ChiroBlock is the expert for chemical contract research.
Outsource your chemical synthesis tasks to us and have more time to focus on your core business. Simply send us your request and we will evaluate how we can best support you with our synthesis services.
Who we are and where we come from:
ChiroBlock, founded by three PhD chemists right after their graduation in 1999, was initially an answer to the changes chemistry-related industries have been facing since the late 1980s. At that time, both traditional corporate structures covering the entire value-creating chain from R&D to production & marketing and complex horizontally integrated technology frameworks came under pressure due to the global trend of increasing efficiency by decreasing complexity.
The above trend led to the closure of many former central chemistry research units/departments, especially in pharmaceutical companies. Disregarding these developments, the demand for new chemical entities and research compounds remained high and became even more brisk with the advent of numerous BioTechs, diagnostic and nano-material start-up companies.
Additionally, new challenges involving the environmental impact of industrial processes together with the increasing importance of alternative, solar based energy concepts require new "matter-transforming", i.e. synthetic chemical, approaches. Although all of these approaches and industries are based on new molecules and transformed matter, and thus on chemistry, most of the affected companies did not and do not regard chemical in-house research as strategically important.
Chemical synthesis is a vividly developing branch of science and industry that is too complex on its own, i.e., for a company pursuing another major business, keeping up with progress in synthetic chemistry would be neither efficient nor successful in the long term. An answer to the increasing demand for chemistry with less and less in-house facilities/resources is "outsourcing", which encompasses not only "chemical production", the market of which has been served by so-called Contract Manufacturing Organizations (CMO) for some decades, but also refers to applied chemical research and development with "chemical Contract Research Organizations" (cCRO) as suppliers.
ChiroBlock, with its exclusive focus on synthesis R&D, positions itself as one of the European pioneers in this cCRO market. We are by far not the largest supplier, neither by turnover nor by headcount, but we are convinced to belong to the very few cCROs which fully comply with the market needs, created to exactly meet the specific requirements of this science-based service.
Contract research & custom synthesis, i.e. providing services and not selling (standard) products, is the only and successful business field of ChiroBlock complemented by own in-house research projects generating proprietary IP on sophisticated chiral compounds and their synthesis. While we have decided against many classical business options (manufacturing, trading), we do address the entire field of synthesis outsourcing without any technological bias. We always try to find the best way making a molecule and suiting our customers' needs.
why working with a specialist like ChiroBlock pays off