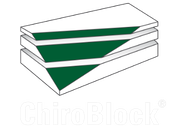 New preservings agents for ophthalmics
Learn more about our new compounds


ChiroBlock's New Compound Class
Preservatives for Ophthalmics
Starting from the known preservatives for eye drops and other ophthalmics, we have been trying to find new/altered molecules superior to existing excipients and lacking their drawbacks (toxicity).
Furthermore, we utilize a "one-compound strategy", i.e., aim to find a single compound active against both bacteria and fungi WITHOUT any supplement.
By now, insufficient/lacking activity often is addressed by adding a second (or even third) active compound, which not only complicates regulatory issues but also raises concerns with respect to the overall safety profile. The widely used boric acid, for instance, is known to be toxic and was withdrawn from most applications in Germany already in 1984. Together with a research group at the University of Braunschweig (Professor Dr. S. Reichl, D. v. Deylen), ChiroBlock responded to an open-innovation challenge addressing the need for new preservatives in 2015.
Our plan to design and synthesize a group of related new compounds as promising candidates for novel preserving agents even won a public grant of the German Federal Department of Economics (ZIM program).
Two years later, our team was able to present the first examples of such substances, which have been tested on eye tissue but are certainly also effective and safe at less sensitive organs (e.g., skin) or non-living matter (e.g., wood or artificial materials).
The starting point involved a case study of the following two widely used but sub-optimal preserving agents, namely benzalkonium chloride (BAC) and polyquaternium-1 (PQ-1).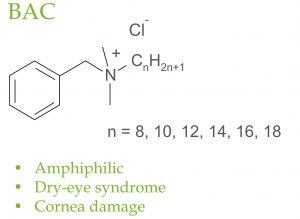 BAC is effective against nearly all relevant fungi and bacteria, but is quite toxic (serious side effects are possible!) and comprises several related compounds.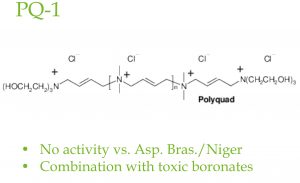 Despite being comparatively safe, PQ-1 is not active against the ubiquitous fungus Aspergillus brasiliensis and is a hygroscopic mixture of numerous oligomers/polymers without a reasonably tight specification.
By now, we have discovered and tested different classes of compounds showing promising activity against prominent microorganisms (e.g. PQ 133, PQ 165, PQ 160):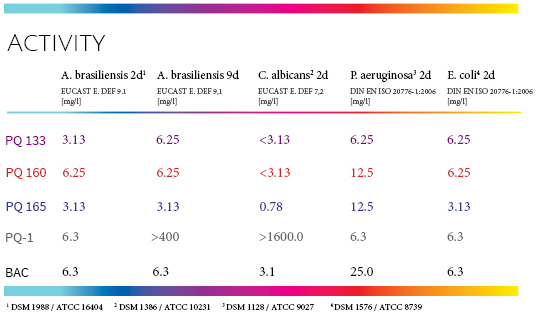 Figure: Comparison of BAC and PQ-1 with the new compounds: PQ 133, PQ 165, PQ 160
The above activities would have no value if the corresponding compounds did not show a good toxicity & tolerability profile. Two well-established tests (MTT and TEER) were employed to determine both the toxicity and permeability (hence, the tolerability to the eye). As an example, the following figure compares the MTT results for PQ 133, PQ 165, PQ 160  with those of BAC (data acquired at the University of Braunschweig by Dr. Reichl and D. v. Deylen):

Figure: MTT Test PQ 165, PQ 160, PQ 133 in comparison with BAC and PQ-1
Obviously, even at comparatively high concentrations, compound PQ 133, PQ 165, PQ 160 is much less toxic than BAC, with the following TEER diagram illustrating the low permeability of PQ 133, PQ 165, PQ 160 and hence, its better tolerability: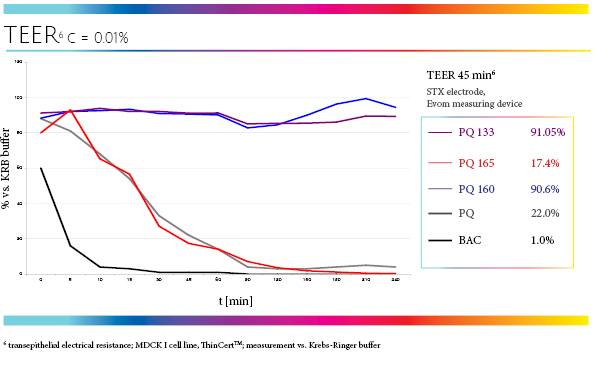 Figure: Epithelium Safety (Transepithelial Electric Resistance (TEER)) - Comparison of BAC and PQ-1 with the new compounds PQ 133, PQ 165, PQ 160
Summary
Activity comparable to that of BAC &
tolerability just as good as that of PQ-1
Most novel compounds exhibit clearly defined structures and are easy to synthesize and handle
Although the establishment of structure-activity relationships is not a core competence of ChiroBlock, we support the identification of such promising compounds and we apply all our chemistry know-how to establish appropriate, scalable, and validated synthesis and purification methods. If you are interested in such new preservative agents, please feel free to contact ChiroBlock.