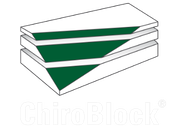 ChiroBlock's Cluster of Custom Synthesis Companies

Find out what we can do for you


Cluster of Competencies
Custom Synthesis Companies
Together with competent partner companies, ChiroBlock also offers solutions to very complex synthesis problems. Get convinced of the power, expertise, and efficiency of our co-operative approaches in the field of chemical synthesis.
As far as co-operations and partnerships with other custom synthesis companies are concerned, all participants always face the same problem, namely the balance between the width and breadth of competencies on the one hand and the increasing complexity of managing such co-operations on the other hand.
ChiroBlock has been addressing this issue since its foundation in 1999 by clearly defining horizontal and vertical interactions, where our synthesis service ends and the abilities and resources of partners start.
ChiroBlock is co-operating both with public research institutions and other companies. Some of these partnerships are purely bilateral, whereas others are based on a clearly defined cluster structure.
One of the most important clusters, "4synth", was co-founded by ChiroBlock early in 2006 and comprises independent small and mid-sized chemical companies of various business fields and focuses.

The identities and competencies of all our partners are available on request. As a result of our successful partnering strategy, ChiroBlock is able to offer a range of additional services complementing our own synthesis service, e.g.:
scaling-up of syntheses
large-scale manufacturing
cGMP syntheses
enzymatic conversions
computational chemistry services accompanying development processes
certified analytical services of nearly any kind
stability tests
regulatory services
identification of sales partners for new chemical products
support in the determination and prediction of structure–activity relationships
In each case, the customer can freely choose between taking advantage of our network or relying on own resources. If the decision is made in favor of our extended services, the customer experiences exactly the same quality, flexibility, and competency standards they are used to get with ChiroBlock. Just rely on ChiroBlock and partners with your next project!