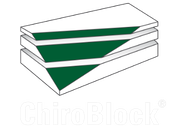 Synthesis of chiral & specialty chemicals

learn more about our in-house research projects


ChiroBlock's Research Projects
Our Open Innovation Projects on the synthesis of sophisticated compounds
As a chemical research organization, ChiroBlock is focused on creating new synthesis IP and know how every day. Apart from our customer exclusive research and custom synthesis service, ChiroBlock continues to pursue own R&D projects on making new compounds available - or on developing new synthesis routes. We respond with these projects to open-innovation challenges in the field of synthetic chemistry.
The focus of these in-house projects is mainly directed to (chiral) derivatives of natural compounds or sophisticated, new compounds and optimized, reproducible synthesis approaches for certain applications. After the successful completion of such R&D ventures, the generated IP is offered and sold (licenses or patents).
This business field constitutes a well - fitting and well - balanced extension to our customer exclusive activities. The results obtained here, are the only ones ChiroBlock freely can use for marketing purposes. Additionally, the risk and chance profile is quite different from the customer specific services.
Below you find selected examples of our IP-Factory activities:
Synthesis of chiral, non-natural, abiotic analogues of natural compounds
ChiroBlock's long and successful history started with passionate chemists seeking new approaches to chiral molecules. As a result ChiroBlock's IP-Factory provides unique (chiral) building blocks and the IP to make them.
The most important/actual examples of such compounds cover analogues of naturally occurring molecules, namely beta amino acids, gamma amino alcohols and fluoro substituted glycosyl donors as well as oligomeric poly-amines.
ChiroBlock has built up a strong know-how position on the stereoselective synthesis of such versatile chiral fine chemicals in both enantiomeric forms. Our innovative approaches using asymmetric catalysis, self organisation processes and efficient purification procedures enable us to offer a broad variety of substitution patterns for each compound class at competitive prices.
Please refer to all standard sourcing databases or contact us directly for a list of our exciting building blocks and active molecules. Up to kg quantities can be synthesized at ChiroBlock. Larger amounts are available via our manufacturing partners.
Read more here: Non-natural Beta(2) Amino Acids
Novel approaches to sophisticated molecules exhibiting optimized properties for numerous applications
Special building blocks and intermediates, classifiable as "fine chemicals", are only one output of our IP-Factory. Other compounds address "functional molecules" - i.e. compounds exhibiting special, valuable properties - the so called "specialty chemicals".
One of the more recent examples are new preserving agents for ophthalmics and cosmetics. Apart from the mucosa, the eye is the only entrance gate for microbes to the uninjured human body. Consequently, all foreign material that is intended to be applied to the eye has to be sterile.
This presents the pharmaceutical companies with the challenge of keeping multi-dose ophthalmic systems free of microbes. Adding preservatives might be the first logical answer and preservatives have been added to ophthalmic products for decades. In most cases they successfully inhibit the growth of micro organisms. There would be limited drive for further developments if there were not a number of concerns linked with these compounds. The most important ones are related to their pharmacological action.
By the very nature of preservatives, they are toxic to cells, more often than not also damaging non-pathogenic tissue. On the other hand, the 'safer' compounds are likely to be less effective at controlling microorganisms, leading to the need for more than one preservative, which in turn may lead to new problems in the fields of toxicology, compound interaction and regulatory issues.
Today, benzalkonium chloride (BAC), amidines and polyquarternium-1 (PQ-1) are the most widely used preservatives in ophthalmica and in multi-purpose solutions (MPS) for the care of soft contact lenses. Serious side effects are being observed with products containing BAC and amidines. Keratitis is probably the most dangerous consequence of ophthalmics or MPS containing these preservatives.
On the other hand, PQ-1, which is much better tolerated, doesn't effectively prevent the ubiquity fungus asparagillus brasiliensis from growing. Hence, compounds are required that are both effective AND safe.
Together with pharmacists of the University Braunschweig, ChiroBlock has been developing a number of such promising compounds during the last 3 years. They not only combine these desired properties, they are also easy to make and to handle. So, they possess all prerequisites to replace the dangerous and old-fashioned compounds.
Read more here: Preservative agents for ophthalmic products
Polyammonium oligomers for gene transfection agents
Other examples of our IP-Factory are special polyammonium oligomers suitable for gene transfection agents. Wrapping fragments of nucleic bases (RNA or DNA) and their (targeted) delivery to (living) cells is a very actual topic in modern research on new treatments for several diseases.
The company Lipocalyx (Halle, Germany) has been developing a unique approach to such "transfecting agents" during the recent six years. We closely co-laborated with Lipocalyx and supported the chemical aspect of this demanding task by providing new compounds and strategies for synthesis and purification.
The conduct of own scientific research projects continuously strengthens ChiroBlock's expertise in the field of modern organic syntheses and boosts our innovative power, intellectual acuity and originality.
This spirit of doing exciting scientific research, of course, also fertilizes the customer specific branches "MoleculeFactory - Custom Synthesis of commercially non-available compounds" and "ReDesignFactory - Route Scouting - Synthesis Route Optimization - Process Development". Find out, what we have developed so far or just ask for individual adaption.
We are converting ideas into molecules.
our synthesis services for customers