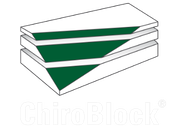 Customized Reference & Analytical Standards
Learn more about ChiroBlock's synthesis service


ChiroBlock's synthesis service
Synthesis of new or commercially not available analytical standards and reference compounds
As one of the most experienced outsourcing partners for chemical synthesis in Europe, we provide custom-tailored solutions for clients seeking chemical contract research in the fields of organic synthesis and customized synthesis services. One of our core competencies is the synthesis of new, commercially not available reference compounds and analytical standards.
With our long-standing track record as a chemical contract research organization, we provide commercially not available substances and reagents to customers from all molecule-based industries such as pharma, cosmetics, new materials, flavor & fragrances, OLEDs, and electronics. Since 1999, we have conducted thousands of custom synthesis projects aiming at:
Synthesis of metabolites of steroids
Synthesis of non-natural amino acids
Synthesis of labeled compounds (stable isotopes)
Synthesis of terpenes
Synthesis of complex decomposition products of natural compounds
Synthesis of oligomeric polyammonium compounds
Synthesis of non-natural lipids and monosaccharides
Synthesis of Polymers
and many more
Customers of ChiroBlock synthesis services rely on our "MoleculeFactory" business field to benefit from:
fixed result-based prices even for risky syntheses
strict exclusivity
the option to also buy the newly developed, validated synthesis protocol via our "ReDesignFactory" business branch
proprietary & bench-marking tools for managing projects, risks, knowledge, and quality
Your search for a reliable source of commercially not available reference standards has come to an end. Contact us and we will evaluate possible synthesis approaches to your compounds.
➤ Analytical Standard and Reference Standard: What is the difference?
The answer is not that simple: Some do not see any difference at all and use both terms synonymously or even use the mix of both, saying "reference standard". Others find each term refers to completely different objects. The reason of this possible misconception simply is the umbiguity of words when using them in different contexts.
For analytical chemists both terms address a compound that can be used for validating analytical methods and results. Such a "reference" compound is an analytical standard with an unambiguous specification regarding identity and purity.
Other R&D scientists refer to such substances only as "analytical standard". In contrast, a "reference compound" is a sample of a functional molecule which is used to compare the performance of own, new compounds with such an older compound. So, e.g., substances disclosed in a competitor's patent are useful candidates for "reference compounds".
Scientists, who aim at developing an even better product, need to have compound samples of the competitors at hand as to prove the advantages of their own development results. These samples are being referred to as "reference compounds". They normally do not need to have such a comprehensive specification as real "analytical standards".
Nevertheless, regardless of being considered identical or different, both types of compounds require special attention of the chemist who prepares them. In most cases the synthesis is challenging, has rarely been performed before and – more often than not - is not published in detail. Additionally, there are special requirements with respect to the purity.
➤ ChiroBlock – a reliable source of commercially not available analytical standards AND reference compounds
➤ Analytical Standards:
It goes without saying: The regulatory requirements are constantly becoming stricter, increasing the pressure on product documentation and quality control.
However, although the development and validation of optimal analytical methods to comply with all QC regulations requires state-of-the-art analytical equipment and highly qualified analytical chemists, this is only one side of the coin.
An analytical standard is a compound of high purity and known concentration to be used as a calibration standard for a given assay.
A certified reference material (CRM) is a compound certified by some trusted organization to be of consistent and very carefully measured quality and composition, often being used as a quality control in analytical laboratories.
However, only suitable analytical standards covering the whole impurity profile and/or metabolism path meet the requirements of qualified analytical documentation.
In view of the abundance of catalogue vendors offering thousands of ready to use standards for impurities and derivatives of known compounds, one might logically ask: So what is the problem?
Quite naturally, no analytical standards are available for newly developed products, recently identified impurities, or sophisticated metabolites of natural compounds, which is exactly where ChiroBlock comes into play.
We are neither an analytical laboratory nor do we sell stock chemicals – we synthesize customized, otherwise not available analytical standards.
➤ Reference compounds:
Many facts outlined for the analytical standards also apply to "reference compounds" in their literal meaning: A scientist is looking for compounds that are not (yet) commercially available to compare data of an own substance with those of an externally described or synthesized.
While the specification requirements in some cases may be less strict, the challenge to make and deliver such compounds is comparable. A synthetic route has to be found, its feasibility has to be evaluated, and purification strategies need to be selected. Then, all these theoretical plans have to be transformed into reality by making the compound in the lab.
ChiroBlock is entirely focused on the synthesis of sophisticated, new molecules, with most of them being custom-tailored reference compounds. From route scouting to regular supply of high-purity compounds synthesized in compliance with QM ISO 9001 or IPEC 2006PQG GMP guidelines, ChiroBlock offers the full range of synthesis services.
We are happy to receive your request and will evaluate the feasibility. If there are any further question, please let us know. Contact us today.
costs & contracts for custom synthesis projects