22. June 2023
Seal of approval of the state of Saxony-Anhalt: ChiroBlock receives the award as an "employee-oriented company"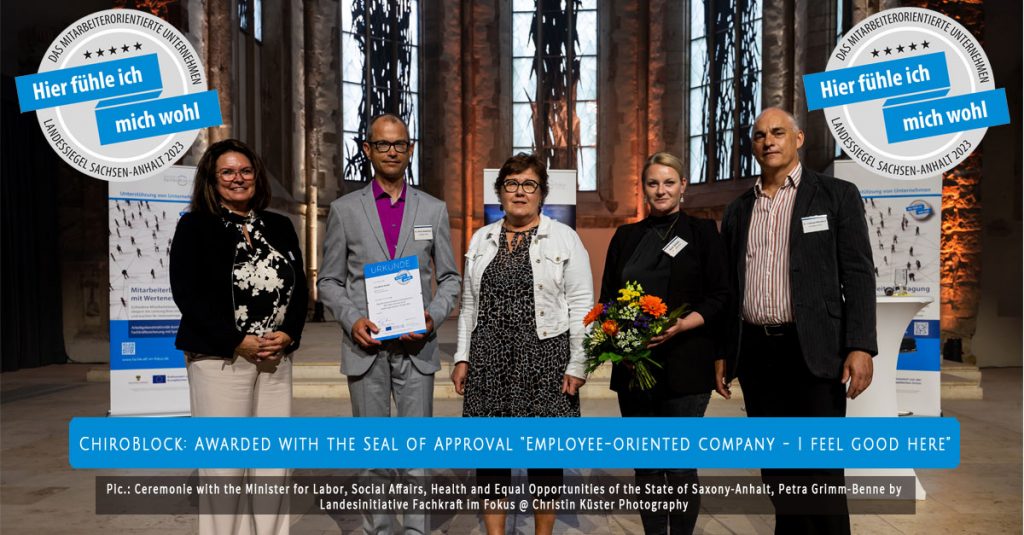 The satisfaction and health of employees in the company is not only an important and central topic in times of increasing shortage of skilled workers. The acquisition of new, qualified specialists, the increase of motivation and satisfaction of the employees, as well as the enhancement of health and occupational safety strategies are the major challenges companies are currently facing.
ChiroBlock has therefore submitted to an anonymous and objective survey by the "Fachkraft im Fokus" initiative of the state of Saxony-Anhalt. The aim was to objectively record employee satisfaction with topics such as occupational safety, digitization, health care, possible additional benefits in addition to regular remuneration and the design of work content and job design. A detailed and professional analysis of the results showed not only the already high level of satisfaction in some central aspects of the corporate culture, but also opportunities for improvement. The first improvement measures in these aspects have already been implemented. Thus, we hope to remain an attractive employer in the future.
Due to the good results achieved in the survey, ChiroBlock has now been awarded the state seal "Employee-oriented company – I feel good here". In addition to ChiroBlock, this seal of approval was awarded to a further 26 companies at a ceremony by the Minister for Labour, Social Affairs, Health and Equal Opportunities of the State of Saxony-Anhalt, Petra Grimm-Benne. We thank you for the nice evening and look forward to the next annual survey, where we hope to be able to defend our award.