11. September 2019
Extended synthesis resources

All's well that ends well! In August we finally could open our new kg-lab facility. Now, our customers benefit from this brand-new infrastructure in various ways:
Up-scaling of lab procedures to the 60…100 l scale
Validation of the robustness of newly developed synthesis processes
Synthesis of master batches on the kg-scale ("MoleculeFactory")
Efficient and timely preparations of intermediates of multi-step syntheses
Kg-scale purification operations such as crystallizing, distilling and chromatography of raw materials
Determination of critical process parameters
Low temperature (<-80°C) – inert gas reactions on a 60 l – scale
Flexible process development and process optimizations
Mixing, batch – blending and filling operations (100 l scale)
First and one-time syntheses of new, customer exclusive substances under a proven and certified QM system
We successful passed the authorities' inspections of both the ventilation system and the explosion-proof equipment. This removed the last – of quite a number – obstacles for starting operations in this "medium-scale laboratory". This lab with its expedient design regarding scale and technical parameters fits perfectly into the gap between laboratory and industrial large scale manufacturing.
Now, ChiroBlock's newly developed syntheses and compounds find their way into our clients supply chain even faster. The intersection between our output and the industrial needs has substantially been improved ("SupplyChainFactory", "IP-Factory"). The seamless process transfer to third parties (e.g. to specialized CMOs) will proceed much more smoothly in future as well.
It is not only the technical specification of the new kilo-lab that makes it special and valuable for our customer's project. Also its complete separation from other laboratories – together with a stand-alone ventilation system and dedicated peripheral equipment – predestine the facilities for compounds and processes that need to be free of impurities from any possible sources (both from other products or from the environment). "Quality by Design" was not just a theoretical idea but a guiding principle with planning this infrastructure right from the beginning.
On August 30th the new kilo lab was presented to press and our team members. Read more here and view media files from this event:
http://www.cp-news.de/aktuell/aus-den-unternehmen.html
https://www.mz-web.de/bitterfeld/wolfener-chemiker-600-000-euro-teure-maschine-erweitert-schlagartig-die-moeglichkeiten-33117378
https://www.rbwonline.de/anhalt-bitterfeld.php?cmd=65874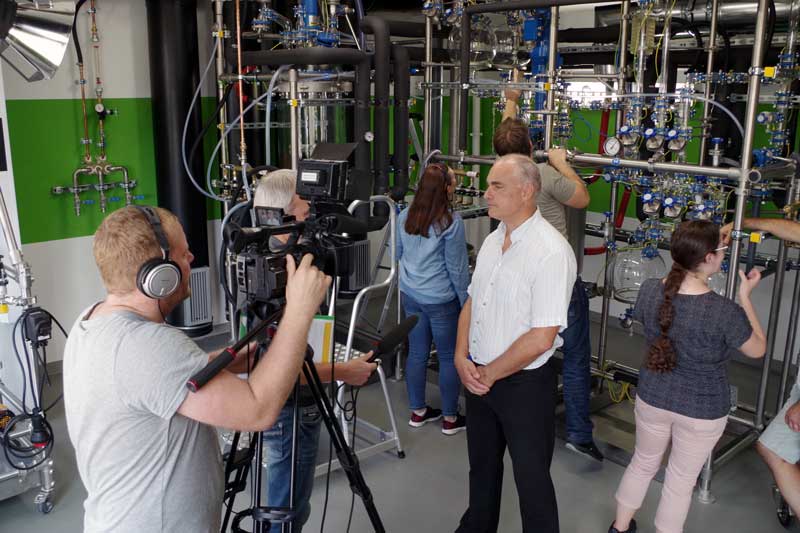 Additionally, more than 20 years of practical experiences in synthesis design and process development contributed to the technological concept of this laboratory. Little was bought as ready-to-use equipment and much was designed individually fitting to the very needs of our demanding everyday business.
We are absolutely convinced of this investment's add-on value regarding our customer's projects. This especially applies to:
Speed and flexibility
Seamless scaling-up processes from mg to the kg scale – and, hence, the ability to accompany start-ups and SMEs all the way along their product development
Delivery of compound batches in the "unpopular" volume range between laboratory-scale and industrial production
Optimization of synthesis processes in parallel to the running production at the customer's side ("ReDesignFactory")
Immediate and adequate response to changed requirements resulting from our client's product development
Together with our partners of the 4chiral cluster, we also pave the way for complete and redundant supply chains that meet all requirements of any scale and of any regulatory issue.
The demand of the first weeks for this new kilo-lab simply proves: We were completely right with our market evaluation. We probably should have planned a second kilo-lab right from the beginning…