27. May 2019
Meet us at Chemspec in Basel, 26.06. – 27.06.2019


ChiroBlock will be exhibiting at Chemspec Europe 2019, the 34th International Exhibition for Fine and Speciality Chemicals.
Now in its 34th edition, Chemspec Europe 2019 unites an impressive array of experts, scientists, managers and thought-leaders and provides a powerful and well-known industry platform to discuss the latest market trends, technical innovations, business opportunities and regulatory issues in this rapidly changing market.
Exhibitors at the fine and speciality chemicals exhibition are manufacturers, distributors, regulators, equipment suppliers, raw materials suppliers, traders, agents and consultants, featuring the full spectrum of fine and speciality chemicals for various applications and industries: pharmaceuticals, agrochemicals, polymers, food and feed ingredients, flavours and fragrances, pigments and dyes, paints and coatings, household and cleaning chemicals, adhesives and sealants, petrochemicals, leather and textile chemicals, electronics and many others. Please register here: Visitor Registration.
For more information about the event, please visite the Chemspec Website. If you are interested in a meeting, please do not hesitate to contact us. We are looking forward to seeing you there.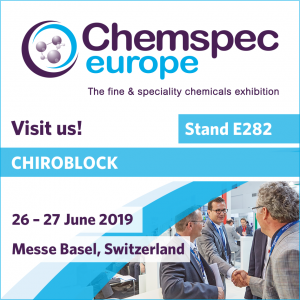 Please make your appointment now. Slots are limited.
supported by: