4. July 2018
New Kilo Lab

Extension of service: ISO 9001 quality regulated synthesis for your supply chain.
We have asked our most experienced chemists to design a multi-purpose synthesis kilo lab with the possibility to perform a plethora of complex syntheses. The new mini-plant supports our efforts regarding the regular supply of fine and specialty chemicals for customers seeking a reliable source for compounds synthesized under strict quality control.
Additionally the kilo lab will be used for the proof of concept for our chemical process development and up-scaling. This way ChiroBlock can supply customers with customized, exclusive compounds through all stages of product development. Read more about technical highlights and possible applications.
ChiroBlock opens state-of-the-art kilo lab
Being more than 20 years in the cCRO service market, we always have been listening to our customer's demands. More and more customers were looking for a reliable European source for fine chemicals, produced under strict quality control, to ensure a consistent supply with exclusive building blocks or starting materials. Most of them were facing the problem that big manufactures just do not have free capacities for small amounts of customized chemicals. Additionally, the Quality Management systems implemented at our customers' side often requires a second supplier for important building blocks as a back-up to ensure their continuous production in case of shortness of supplies. Another important issue is the large amounts of starting materials needed for multi-step syntheses in the course of customer specific R&D projects.
To give an answer to all these aspects ChiroBlock, has set up small but versatile multi-purpose kilo lab at our facilities in Wolfen. This important upgrade of our infrastructure allows ChiroBlock the on-time supply of up to 100kg of high quality compounds. The new lab was designed, planned and realized by three of our most experienced senior scientists, ensuring the kilo lab facilities exactly matches our needs with respect to both our SupplyChainFactrory and our MoleculeFactory. Special focus was set to cryogenic reactions. The reaction unit is designed for temperatures down to -90°C and equipped with a powerful cryoheater to provide the required cooling performance. The new state-of-the-art kilo lab facilities are configured for cost-effective manufacturing, scale-up and process development. They are an important milestone in the further development of our services.
Technical details:
Facilities
110m² workspace
redundant ventilation system including heat recovery and double emergency back-up
solvent tapping points from separate solvent storage facility

Büchi multi purpose unit "chemReactor" CR60
special cryogenic reactor -90°C to +200°C
glass lined steel reaction vessel with multi functional glass overhead
60 litre useable volume
cryoheater 6KW heating power and 11KW cooling power

Büchi double jacketed glass reactor with condenser
rated -60°C to +150°C
100 litre useable volume
cryoheater 8KW heating power and 5KW cooling power

peripheral equipment
Büchi filter unit 30 litre useable volume
Büchi 20 litre rotary evaporator
storage- and mixing vials 20 and litre
gas scrubber 20 litre with DN 100 column
column chromatography at kg-scale (columns up to 12 litre volume)
continuous acquisition of process data
This allows us the manufacturing of:
cost-efficient starting materials & intermediates,
key building blocks supporting your program,
chiral and non-chiral intermediates despite of a complex nature,
APIs for pre-clinical use,
or, regulated starting materials for GMP synthesis under committed quality standards (ISO 9001 or – if required – IPEC 2006 PQG GMP).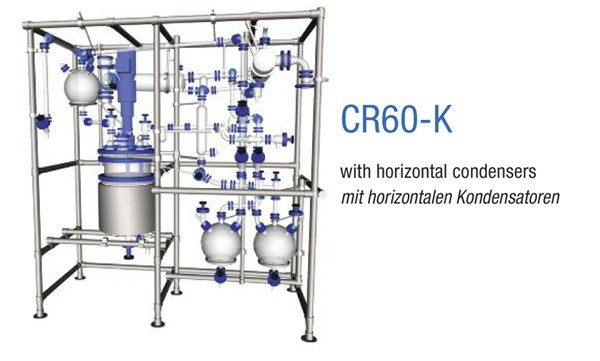 pic: by courtesy of Büchi – multi-purpose plant CR60-K
The utilization of a multi-purpose plant for custom synthesis projects plays an important role for projects being conducted at ChiroBlock. This kilo lab is suitable for Chemical Process Development, Optimisation and Scale-up Experiments ("Proof of Concept").
Now, ChiroBlock is able to operate in the neglected but important scale between the R&D lab on the one hand and the >100 kg scale on the other hand. This allows us to mimic plant conditions and to study scaling effects – both technologically ones as well as chemistry related issues. With our new kilo lab, we are now able to assist you in understanding Critical Process Parameters (CPPs), determining the relationship between factors affecting a process and the output of that process.
With our bottom-up approach we assist you in all early phases of your product development making sure that the underlying chemistry fits your purpose in the best way possible. This is an important difference compared to large CMOs with their more technologically oriented, "top-down" perspective.
First projects are about to start in August 2018. If you are interested in sourcing high-quality, cost-effective, functional building blocks (from lab-scale to multi kg) from ChiroBlock, please do not hesitate to contact us. We are happy to assist you to provide the best service for you. With a close and open communication our team will assist you in translating all your requirements into a sound project design.
Quotes for supply chain projects include: full documentation, risk assessment, change management and options of IP- or process transfer. So, you can choose to opt for independence from manufacturers who regard process know-how as "secret treasure" as basis for their long term business. A well documented batch-record, quality control of starting materials and analytical methods for proving identity and purity are also included in our service.