15. March 2023
Review 2022 – Investments & Customer Voices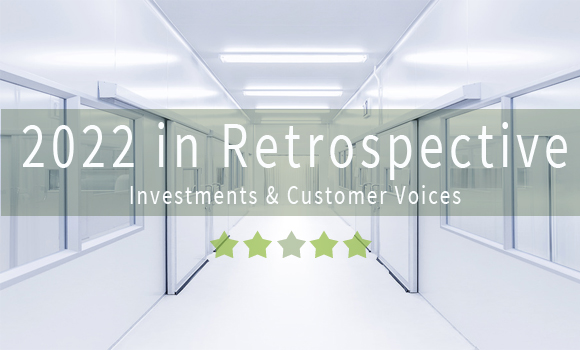 Maybe we have already pointed it out elsewhere – but 2022 has been the most successful year in ChiroBlock's history!! Many new projects & customers contributed to this success. One of the main factors for this achievement has been the high customer satisfaction with our services. Successful completed initial projects allowed us to further accompany some of our customers from the early stages of development, to the scale-up of the process, as well as to setting up a continuous manufacturing of their compounds.
To meet this increasing demand for our services, we have invested in several important divisions at ChiroBlock. This way we hope to continue to meet our customers' expectations in 2023.
Investments in kilo lab & IT infrastructure
ChiroBlock implemented larger investments over the year 2022. The focus was on expanding the capabilities of our kg laboratory.
A new pressure filter unit was taken into operation (160 liters volume, up to 6 bar, double jacket). The filter is lined with ECTFE, substances and solutions containing halides can also be processed.
An additional warehouse for flammable liquids was built for the safe storage of larger volumes of these solvents. It is approved for the storage up to 5000 l of liquids.
We have also invested in our IT infrastructure. Here we moved to so-called hyperconvergent infrastructure. The new server cluster now includes 5 high-performance machines that provide their computing power and storage space fully redundant and fail-safe. Naturally, the latest data protection and IT security standards have been implemented in the system.
These systems enables us to further guarantee that the valuable data of our customers' projects are only stored in-house and are well protected from external attacks.
Customer Feedback & Voices
The recording of customer feedback has always been a very important subject for ChiroBlock. The main reason for doing this has not been the gathering of nice facts for our yearly newsletter, but to identify important areas for improvement as well as new developments on the market.
Therefore we want to thank all customers who have truthfully and most important critically answered our survey questions.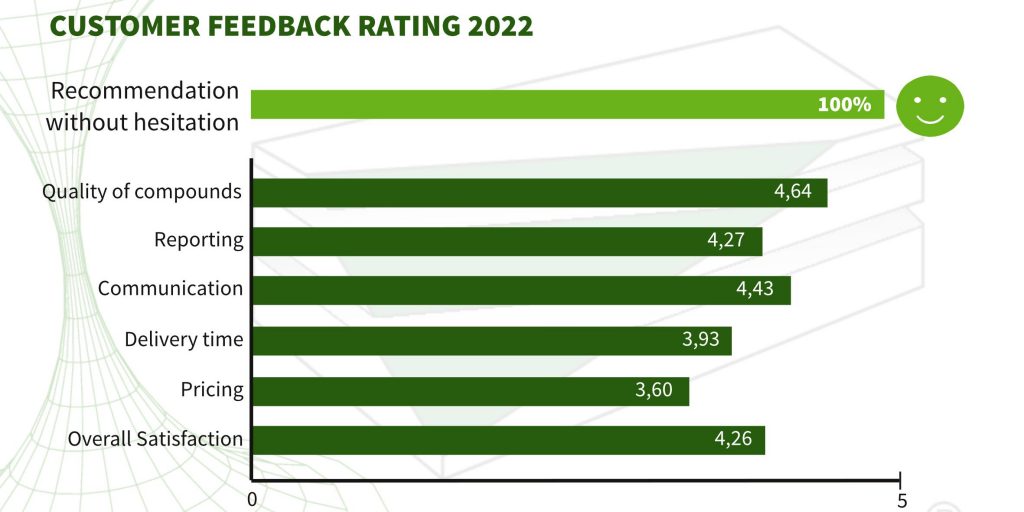 PIC: Customer Feedback 2022 – Rating
Customer Voices 2022:
"We are very satisfied that you managed to produce the (almost) requested compound, and very grateful that we did not try to do this ourselves! …So thanks a lot for your efforts and struggles." (Norway, Public University)
"I have been impressed with the swift and thorough approach you have taken to my enquiry and I will certainly bear ChiroBlock in mind for future projects." (UK, global medical device company)
"Certainly, I am extremely pleased with your company and will provide further feedback later this week." (USA, pharma start-up for design and development of new antimicrobial agents)
"Vielen Dank für Ihre beiden Emails, die ganzen Vorschläge, Angebote und jetzt positiven Nachrichten. Das sind wirklich gute Neuigkeiten und danke, dass Sie sich jetzt so bemüht haben." (Germany, radiopharmaceutical company)
While more than 90% of all feedbacks were very positive, we also received some complaints from our customers. The most impressive was "… I have never experienced a chemist being that poorly customer oriented as with Mr. Xxx during our video conference…" For us – not just a remark for the records but something that initiated measures both with respect to this very employee but also regarding our further education scheme.