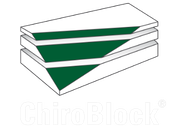 Synthesis of Customized, exclusive Chemicals

learn more about customized chemicals


ChiroBlock's Synthesis Service
Customized chemicals on demand
As one of the European pioneers in the business of chemistry services, we know its requirements, the pitfalls to be avoided, and the way to create extra value for our customers.
ChiroBlock has set up special processes for serving pharma, biotech, as well as  universities and public research institutes. However, we have noticed that the "non-life-science" industry with an elaborated demand for customized chemicals represents an increasing fraction of our customers.
Thinking of "modern chemistry", one mostly imagines clean biotech laboratories, healthy crops, cured patients, and converted biomass, since these "life-science" aspects of chemistry are obviously the most impressive ones. However, they only represent a (small) fraction of the chemistry universe.
There are numerous industry branches based on custom-made compounds (and, hence, chemistry) and their carefully ''tuned'' properties beyond the direct interaction with living matter, e.g., electronics, new materials, OLEDs, adhesives, detergents, dyes, nanomaterials, construction, lubricants, fuels, energy storage to name just a few fields.
All of the above fields are at least as important to mankind's future as the "life-science" branches are. All of these industries sell products, approaches, and solutions which are inseparably connected to chemistry, which is often not as obvious as for pharma or biotech. Consequently, chemistry, the making and transformation of molecules, needs to be addressed in all these branches.
With the ever increasing division of labor, tasks, capacities and competencies in our modern world, most companies have strategically decided to focus on their core business, which quite naturally results in a decision against strong in-house chemistry resources for the abovementioned industries.
There are several good reasons for such a decision:
Chemistry simply is another business that does not represent the focuses of these branches
The investments to build up a strong chemical (R&D) unit require much money
Last but not least: chemistry is a mature industry with many players of all kinds available nearly everywhere on earth
The last statement does not only apply to the manufacturing of chemicals or to vendors of reagents, media, and solvents, but also to chemical service providers. Since its foundation in 1999, ChiroBlock has been entirely specializing in chemistry R&D services. The requirements of the "molecule-based" industries, especially those of their R&D departments, perfectly meet ChiroBlock's service range:
We offer exclusive customer-specific research reagents & media
We modify molecules to meet any given property requirements
We supply otherwise not available starting materials
We compare the efficiency of related synthesis steps
We assist in developing entirely new synthesis routes to new molecules considering all available technologies
We verify and document new or optimized synthesis protocols on the lab-scale and transfer them to manufacturers.
ChiroBlock has served many "non-life-science" customers since its foundation in 1999. We very much value these clients and we know their special requirements. An entirely pharma-focused partner, acting between GMP compliance and drug master file, simply does not understand the often contradictory needs of an OLED manufacturer or a polymer company looking for an improved catalyst.
Knowing these differences and addressing them is the prerequisite of ChiroBlock's success with those partners.
There are many other reasons to choose ChiroBlock as partner for R&D projects in synthetic chemistry:
Already the focus and structure of ChiroBlock is an answer to markets needs:

ChiroBlock is not engaged in any other business activity such as manufacturing, trading, catalogue business, etc., being solely focused on small-scale chemical R&D.
Consequently, we have the experience and power to deliver excellent results in this well-defined area of activities.

ChiroBlock's ownership structure is another prerequisite for success:

The company is entirely owned by its employees.
There is no external partner or investor whose interests could interfere with our client's objectives.
Furthermore, the above structure generates the highest degree of motivation and the lowest extent of staff turnover.
With these fundamental features backing all our operative activities, ChiroBlock offers its customers much more than its competitors:
Proprietary internal processes and software tools allowing our chemists to address the chemistry problems in the most efficient and effective way.
A track record with more than 40 "non-life-science" customers over more than 12 years.
Exceptional safety measures, both regarding
o The "hardware" (building, compounds, staff) and
o The "software" (data) – far beyond ''simple'' firewalls
Facilities for handling very sensitive compounds such as catalysts for polymerization purposes
Benchmarking reporting tools
An absolutely positive attitude toward fee-for-results contracts
We regard ourselves as a value-adding problem solver in the field of synthetic chemistry. No more, no less.  In case you are looking for customized chemicals and a reliable partner in chemical R&D. Just specify your request and we will definitely find a solution.
learn more about our synthesis services